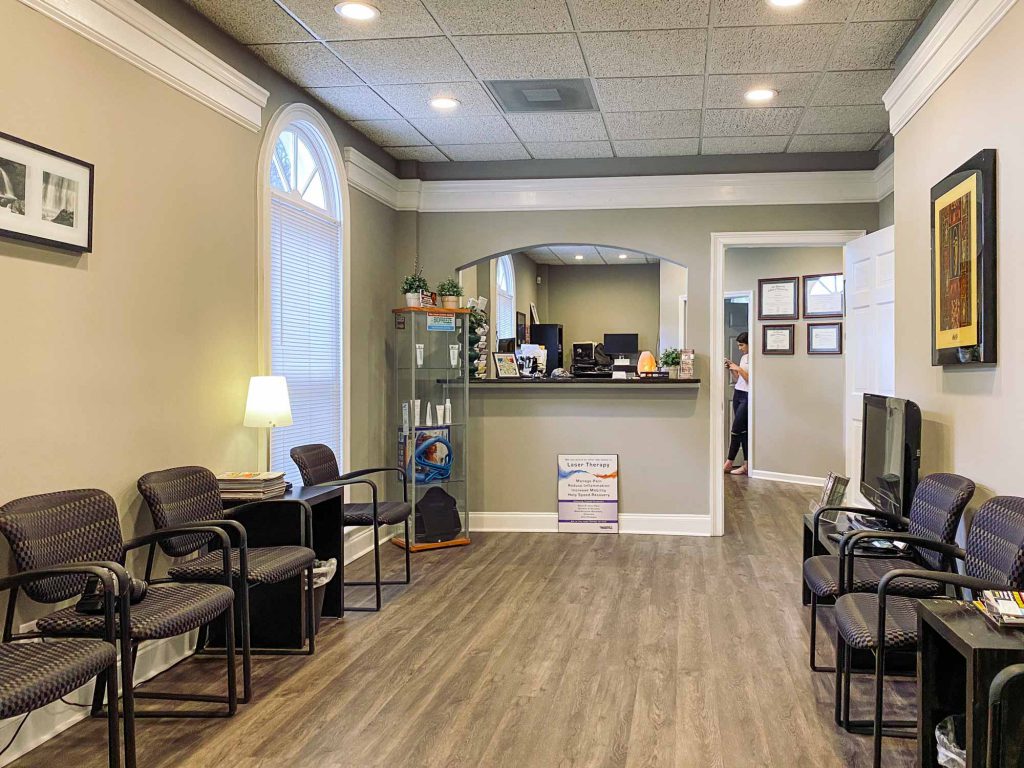 Chiropractic at Atlanta Total Wellness is a health care profession that focuses on disorders of the musculoskeletal system and the nervous system, and the effects of these disorders on general health. Chiropractic care is used most often to treat neuromusculoskeletal complaints, including but not limited to back pain, neck pain, pain in the joints of the arms or legs, and headaches. What is Chiropractic care: spinal adjustments to restore function.
Doctors of Chiropractic – often referred to as chiropractors or chiropractic physicians – practice a drug-free, hands-on approach to health care that includes patient examination, diagnosis and treatment. Chiropractors have broad diagnostic skills and are also trained to recommend therapeutic and rehabilitative exercises, as well as to provide nutritional, dietary and lifestyle counseling with spinal manipulations.
What is Chiropractic Care in Atlanta and What are the procedures?
The most common procedure performed by Chiropractors is known as "spinal manipulation," also called "chiropractic adjustment." The purpose of manipulation is to restore joint mobility by manually applying a controlled force into joints that have become hypomobile – or restricted in their movement – as a result of a tissue injury. Chiropractors use manipulation, or adjustment of the affected joint and tissues, to restore mobility, thereby alleviating pain and muscle tightness, and allowing tissues to heal. Tissue injury can be caused by a single traumatic event, such as improper lifting of a heavy object, or through repetitive stresses, such as sitting in an awkward position with poor spinal posture for an extended period of time. In either case, injured tissues undergo physical and chemical changes that can cause inflammation, pain, and diminished function for the sufferer.
Chiropractic adjustment rarely causes discomfort. However, patients may sometimes experience mild soreness or aching following treatment (as with some forms of exercise) that usually resolves within 12 to 48 hours.
In many cases, such as lower back pain, chiropractic care may be the primary method of treatment. When other medical conditions exist, chiropractors may complement or support medical treatment by relieving the musculoskeletal aspects associated with the condition.
As an Atlanta chiropractor Dr. Sereda tries to assess patients through clinical examination, diagnostic imaging and other diagnostic interventions to determine when chiropractic treatment is appropriate and more importantly, what type of treatments would be most beneficial.
What truly differentiates Chiropractors from any other healthcare professionals is the fact that chiropractors are the only professionals who are trained to diagnose and treat what are called spinal subluxations. The word "subluxation" comes from the Latin words meaning "somewhat or slight" (sub) and "to dislocate" (luxate). So the term 'vertebral subluxation' literally means a slight dislocation or misalignment of the bones in the spine.
When a subluxation occurs, a chiropractor can correct the misaligned bone and allow it to return to its proper position. This procedure is appropriately called an adjustment, and the adjustment enables the body to heal. The chiropractic adjustment is a quick thrust applied to a vertebra for the purpose of correcting its position, movement or both. Adjustments are often accompanied by an audible release of gas that sounds like a "crack." The sound sometimes shocks people a little bit the first couple times they get adjusted, but the sensation is usually relieving. Occasionally, minor discomfort is experienced, especially if the surrounding muscles are in spasm or the patient tenses up during the chiropractic procedure. There are times when the audible "cracking" does not occur. This is often due to either significant muscle tightness or that the patient may be having a hard time relaxing during their adjustments. However, the chiropractic adjustment is still important. The leak is fixed. The wiring is fixed. Information is flowing again. To keep the wiring fixed, several adjustments over a course of time may be necessary, in addition to massage, physical therapy, stretching exercises, or strengthening exercises. In the chiropractic world, keeping the problem fixed and preventing its re-occurrence is just as important as the initial remedy.
These changes get progressively worse over time if they are not treated correctly, leading to chronic pain, inflammation, arthritis, muscle trigger points, the formation of bone spurs, loss of movement, as well as muscle weakness and spasm. Chiropractors have known the dangers of the vertebral subluxation complex ever since the birth of the profession. More and more scientific research is demonstrating the tremendous detrimental impact that subluxations have on the tissue of the body. In order to be truly healthy, it is vital that your nervous system be functioning free of interference from subluxations. Chiropractors are the only health professionals trained in the detection, location, and correction of the vertebral subluxation complex through chiropractic care